News
The single-effect falling-film evaporator...
Alcohol Recovery Concentrator...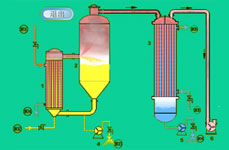 Single Effect Concentrator...

1. the inner diameter of the evaporator is φ200mm, and the height of about 100 mm of metal round pots. 2. Evaporator for metal circular structure, the wall should be smooth, without defects such as burrs or bumps in the...

The the alcohol recovery tower by tower bottom, the tower, condenser, cooler, buffer tank, the high tank six part applies to the dilute alcohol recovery of pharmaceutical, food, light industry, chemical industry, the equ...

Scraper film evaporator has the following performance characteristics: 1. the heat transfer coefficient is high, the evaporation capacity 200kg/m2 · hr evaporation strength can be achieved, and high thermal efficiency. ...

Unique structural design of the rotary film evaporator, the product can handle some conventional evaporator is not easy to deal with high viscosity, containing particles, heat-sensitive, and easy-to-crystalline materials...

1. Minimal pressure loss. 2. can achieve the operation genuine under vacuum conditions. 3. high heat transfer coefficient, high evaporation strength. 4. Low evaporation. 5. Overcurrent short time....